BATMAN BEGINS & PCK MUSICAL
To day meet up with my sis at Bugis Juction to watch Batman Begins. So long never go out with her since secondary school bah. Anyway for the show I didn't expect it to be a very nice show, feel like watching it again. It is not like the same Batman show its a bit different. Me not good in explaining. Go and watch it and you will know. This show is about coming over your fear and psycho stuff. Quite nice. Not suitable for kids to watch coz it does not like normal Batman show, trust me.. (Thats how i feel though

)
After that meet up my mom, head down to Singapore Indoor Stadium to watch PCK musical. Thanks for Uncle Patrick for giving as the ticket, some more sitting infront

. The whole show quite nice. Like the voice of PCK and Margaret, their voice is nice and quite powerful. Actually the whole show is very Singapore. But its original right. Anyway the whole story is about family, Con and etc.. Lazy to talk more. Other days bah... tired wor.
But throughout the whole show I love what PCK had sang to Rosie when he a downfall. Can't remember the exact thing but trying...
"Because I had you, You give me courage, light up my road...."
"Because I had you, we can build our castle together...."
Should have faster record down... Lol...
Here are some snap shots taken.
Me and my sister at Bugis Mos Burger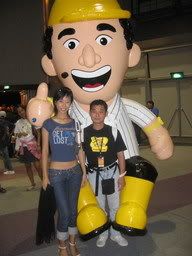 Me and PCK Balloon..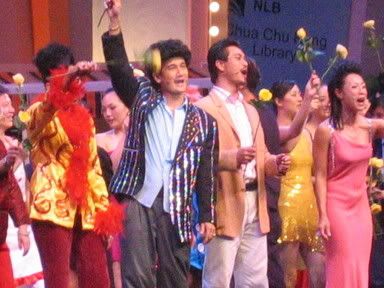 The ending...
The rest of the photo can be view under my Gallery: PCK musical.