Sorry folks, busy working and meeting up friends, thats why not blogging for the past few days... Thanks for concerning my finger... Hehe... Is getting better.. thanks alot.. but i always hit my injured finger -___-" HYard to avoid coz its my dominal hand so its hard to avoid using it... :(
Anyway i'm so sorry, i forgot to put up the size of the red heels. Is 24 1/2, can fit size, 6-7 :) Please buy from me ok... no point lying in my room for nothing.. make me feel sad... can see, touch but cannot wear...
Ok back to what i have been doing on wed n fri, no thur coz i'm working pm shift. Wednesday meet up KK aka Angelene (angle), suppose to pass her her present but in the end i forgot to give it to her and bring back home again -__-".... Have to meet her up to pass it to her. We meet up at Marina Square after work, she also brought 2 of our nursing seniors, Suri and Joseph to join us. We accompany KK to shop around for her formal outfit for an upcoming interview. After that we went to have sushi, paid by Joseph.. so peisei... But thanks alot!! Me keep asking Suri or KK (can't re who) is it really ok, not to pay him, they said ok de la... So thanks alot! :) After eating we continue shopping for KK stuff, than we proceed to Swensen at Esplanade to have ice-cream.. So we have nice chit chat than around 9pm plus, felt very tired, so I decided to go of first. On the way out, saw Dr KC, he was shocked to see me, coz he never see me in outside clothes before... his eyes were so big... so u guys can imagine how big difference i am in uniform.. haha... So we do some small catch up than KK accompany me to wait for bus than she join back the group.. ;p Ok pics time....
In the bus... ;p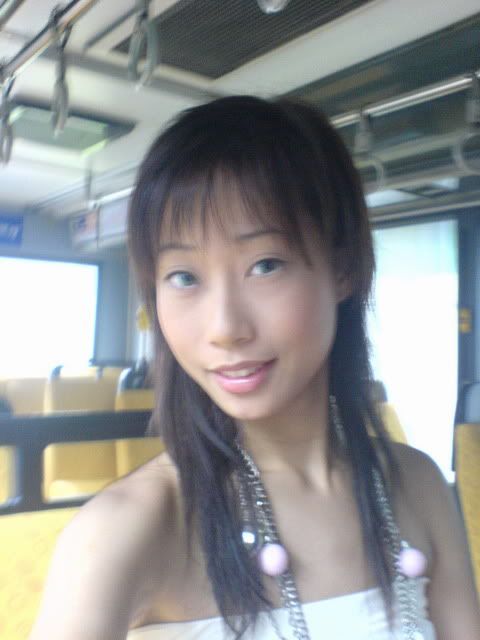 Funny post of Suri and KK at Swensen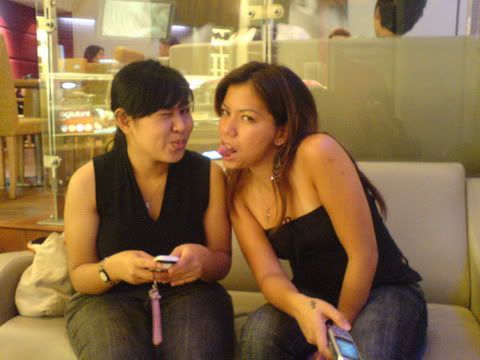 My icecream, i mixed n match myself: cookies n cream, strawberry icecream and coffee with hot fudge and strawberry fruits as topping :)
What i was wearing... is it too much of details?? Hope not... Anyway total up (not including shoes) is only less than $50 hehe... ;p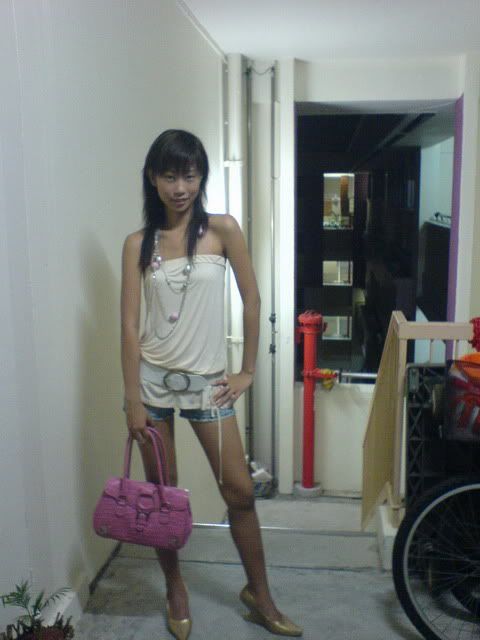 ~~~~~~~~~~~~~~~~~~~~~~~~~~~~~~~~~~~~~~~~~~~~~~~~~~~~~~~
Friday...
As for friday, after i finish work, went to MOS with Sue Ching and Ah Chen to have a light makan, coz Sue and me are hungry after work, coz normally we don't go for lunch break, so by the time we finish work, we are damm hungry. After that i rush down for a casting for a carshow, but don't think i can get it, coz some of the gals there are prettier than me, those big big eyes and like"carshow /motorshows" face... ;p Than rush down to Taka-Crystal Jade Xiao Lao Bao, to meet my "tai-tai NS guys' galfriends + "uncle"" gathering... It means, all this gals, their bf are in army except for our "uncle", who is in army, have a gf and also our mento. Anything about NS we don't know we can look for him and also can look for him when we gals planning get married coz he ever do wedding planner before.
We had a fun time throughout the dinner. "Uncle" even told us one funny thing, he said when he read the chinese newspaper, he saw my report, so he told his camp mates that he know me etc, nobody believes him, he very pek chek... haha.. so i took a photo with him, so he can have a proof to his friends.. haha...
Another incident is i can't imagine i actually drop 3 chopsticks in a row!!! Not in a pair but one just drop on the floor the other one stay put on the table or at my bowl... -__-" Lucky, we got 3 empty seats so i just take the unused chopsticks... kaoz...
Ok pics time.... tired to talk liao...
The 3 ladies, candid shot... ;p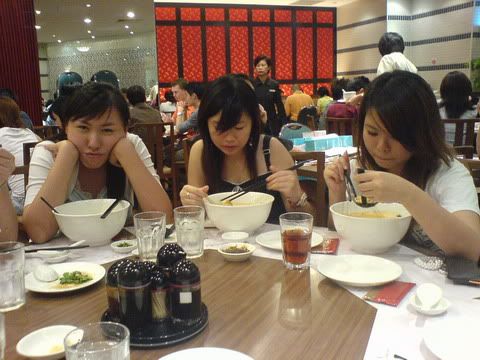 Me again... get used to me.. ok.... hehe... my big eye bag....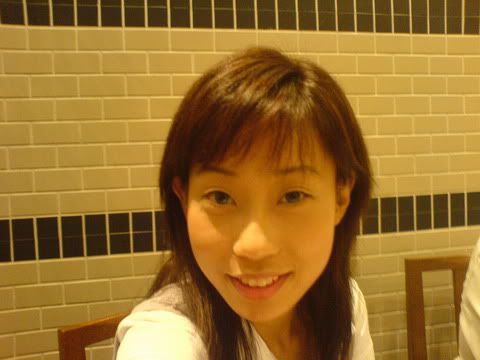 Serene and Ying Ying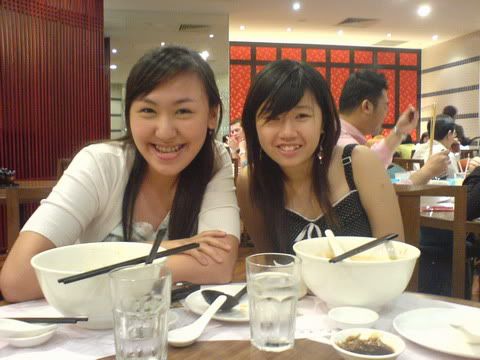 Sweet couple... they have been together for freking 7 years!!! So sweet right! Jia you wor.. ;p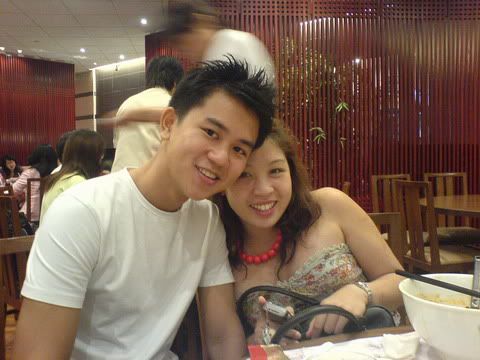 Tong Tong one the phone...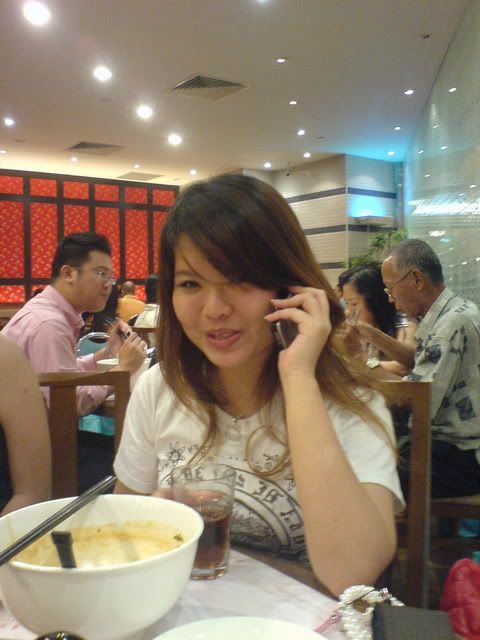 His "Proof" ... Haha..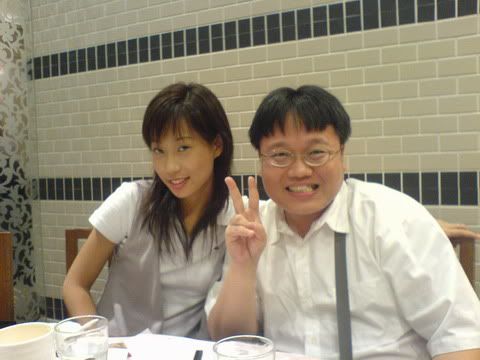 My another "gf" or baby gal.. haha.. Ying Ying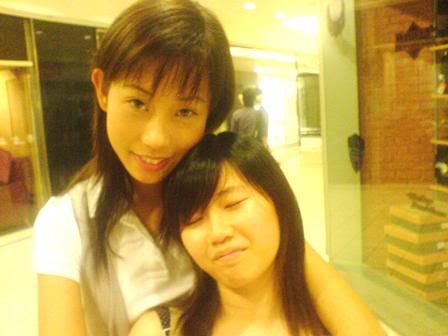 My outift... feel that i look funny... not sure... still thinking how to match the long sleevless coat.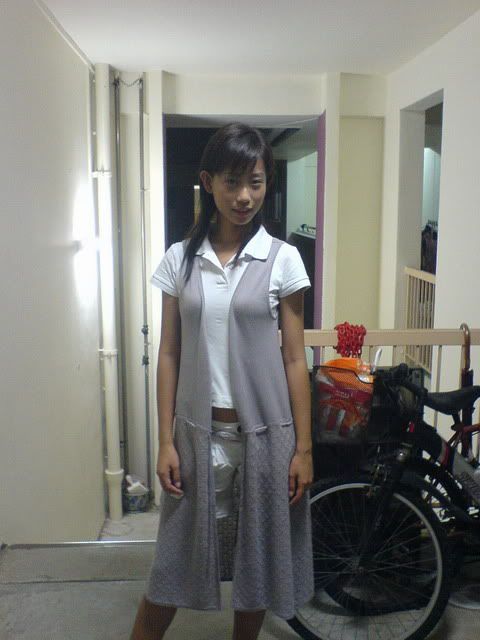 ~~~~~~~~~~~~~~~~~~~~~~~~~~~~~~~~~~~~~~~~~~~~~~~~~~~~
Ok... Winners of the Miss Singapore World:
The Main titles is Miss Singapore World.. but this compeition they are giving away the other titles also, and this gals will be going overseas to have an international competition! (Not confirm yet though, as i may have chance to go, coz one of the gals is not going, so hehe.... pray hard.. coz its really a good experience hard to come by)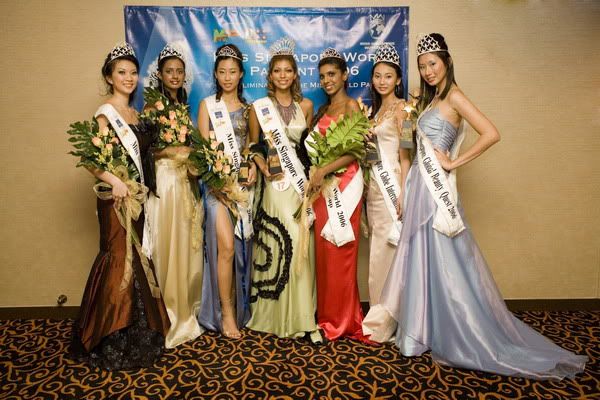 From the LEFT to RIGHT
Linda - Miss Singapore _____ (sorry can't remember n she cover up, update again)
Sujeeta - Miss Singapore Bikini
Xiaoqi - Miss Singapore World 1st Runnerup
Colleen - Miss Singapore World 2006/07
Jaishree -Miss Singapore World 2nd Runnerup
Adeline - Miss Singapore Globe Intercontinental
Melissa - Miss Singapore Global Beauty Quest
Once again, I want to thanks all the readers, friends, colleagues and relatives who have supported and voted for me.. Really thanks alot! U guys really boost lots of my confidence to make it into top 12 and become 1st runner up.. really thanks alot. :) Good night...