Hey hey!!! Yesterday went for Mr Singapore World Preview at Club MOMO. Went there around 9pm. But before that I went to a few places..
1st stop ~ Went for casting for Soo Kee Jewellery Show on the 23 and 24... I shall not go into the details on how my casting went through but its quite embarassing for me -___-" But thank god, in the late evening, i received news from the agency that i got the assignment!!! Yappie!! Now must work even harder to earn money for my school fees... sob sob..
2nd stop ~ Meet up Benny and his friends at Bugis. They wanted to get some blazer. So accompanied them to walk around. Purely guys stuff! Haha.. But i do shop alittle.. ;p bought 3 earrings for $5. Haha... But they couldn't find anything that suits their budget. So we decided to have lunch first then walk around again. Finally they decided to go to the shop they saw at first to buy their blazer.. 0-0 But still they took about 30mins or more to decide which colour to choose (brown, grey and black) and to bargain the price. I was sitting down there, giving some advice and watching them ;p The sales gal was saying, talking about fussy, guys are the one more fussy than gals.. Haha.. So i told her is because, most of the gals are considered impulsive buyers but for guys, they are more of a thinker. ;p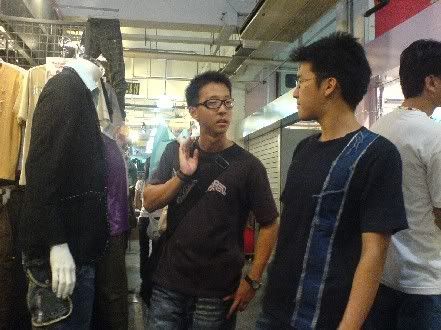 One more guy missing.. ;p on the right is victor, quite a funny and cute guy. Whenever he saw me, he will said" How come u are getting taller nowadays? -__-"
So after they have decided, Victor went for his class and the other guy went to meet his friends. So Benny and me walk over to Suntec City to have our dinner at pizza hut. We took a rest outside National Library, coz i was wearing heels, tired.. (casting earlier on mah). We decided to take some pics, copying the drama series "My name is Kim San Shun". At first Benny refused coz he find it stupid, but still... we took it *evil smile*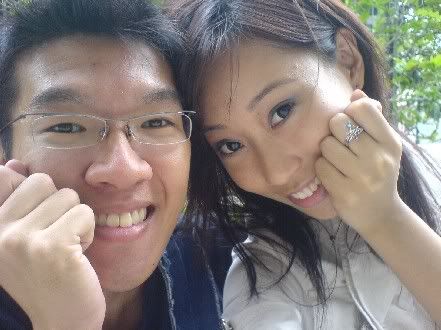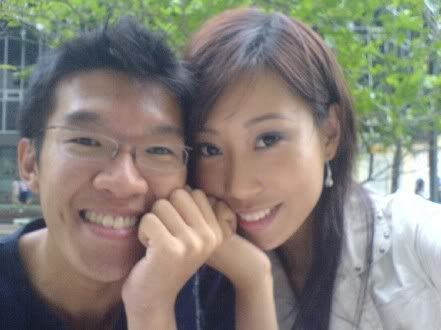 When we reach pizza hut for our dinner, we are the only customer there, one of the malay guy waiter told us that we are the 3rd customer since morning. Yap due to the IMF thing, but i told him I like it.. ;p coz i don't like crowded places. So not only i have *bipolar image disorder i also have crowd phobia.. ;p
*Created by Yih Shan (my gf) to me, coz when i'm in my uniform, i look damn unglam, wear specs, messy bun hair and not well pressed uniform (i hate to iron clothes -_-"), no make up, walk damn chor lor. But when i dressed up, hmm.. thats what u see in the pics.. :)
We ordered chessy bites pizza!! Yummy, i love melted cheese! So we eat and talk, stayed there for about 2 hours, before Benny see me off to club momo (he don't want to see guys thats why).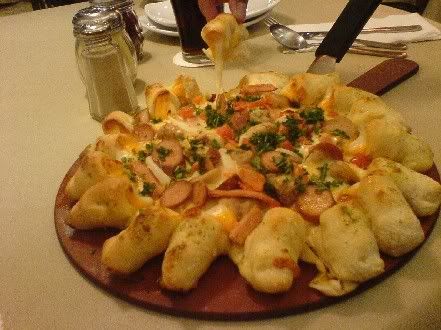 I arrived at club momo around 9pm, glad Adeline was there, coz last min my friend didn't want to come. Without Adeline I will be bored to death man.. Coz Brian, Robert and Edwin need to do their stuff. The photographer that I get to know from MSW also came. So we took quite a few pics. Thanks to him! ;p
The Banner, featuring 2003 winner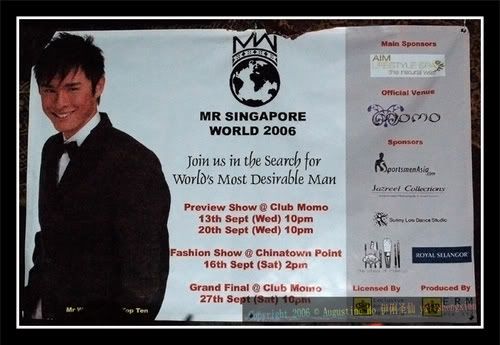 2 out of the 3 judges.. One came late.. Jaishree and Adeline (Judging for Mr Personality)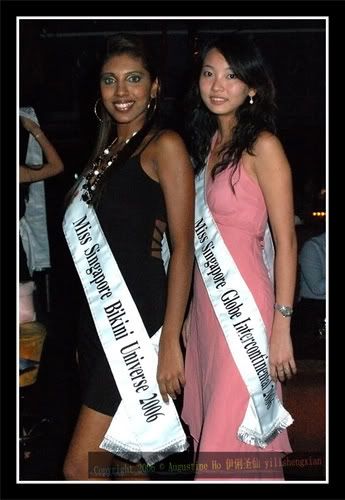 Adeline, Photographer and Me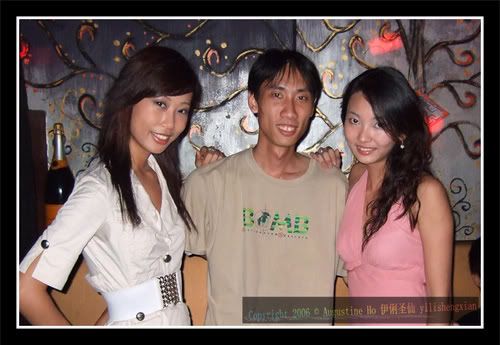 Adeline and Me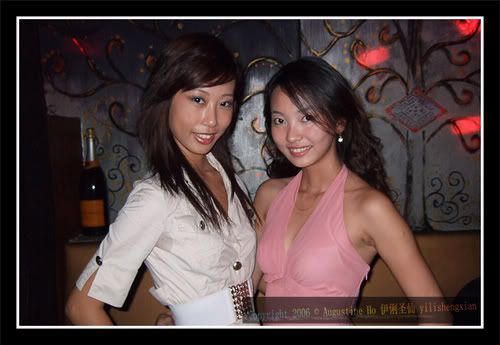 Photographer and me.. (my "da xiao yen" getting worse man!! Next time must face other side)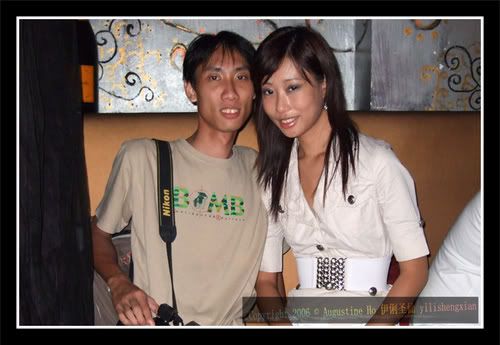 Gary (contestant), Brian and Me
From the right: Robert, Alfia (contestant), Edwin, Brian and Me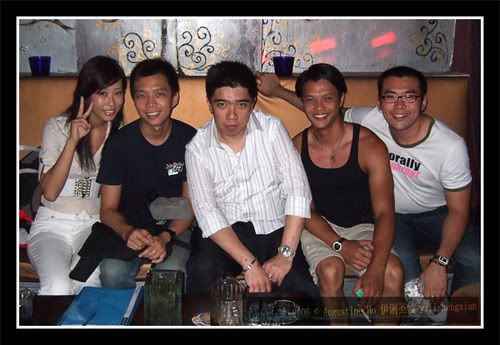 Right: Alfia, Brian, Adeline, Me and Robert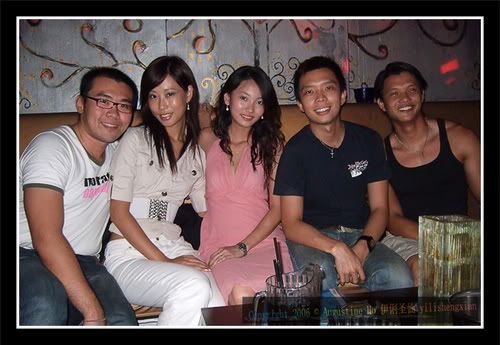 So the winner for Mr Personality is No. 8 Victor. He speaks well short, sweet and confidence. Not bad.. But don't worry guys.. still got few more to come! ;p
More photos can be seen at
http://elrilmatheren.multiply.com/
The event finish around 12mn, so we sit down to drink, coz i'm not a good dancer. ;p I went home around 1am plus bah.. So tired.. then i need to pack for tomorrow shoot also, only get to sleep at 230am.. kaoz...
What i wore yesterday, Benny said it was very "kua zhang" coz i'm getting alot of stares from passerbys and even the sales person.. :( Mom said is because of my red shoes.. coz nobody dare to wear red heels (some more shiny red) But i do see ppl wearing it, actually only one.. -_-"
Pretty Peggy does! ;p Only Brian, Robert and Adeline said is not "kua zhang" Robert making fun of me, ask me why i wore the same belt, heels and bag, did i change my underwear ??? -__-"
lolz.. coz trying out the style that i can match with my new buys.
(took in Bugis toilet ;p)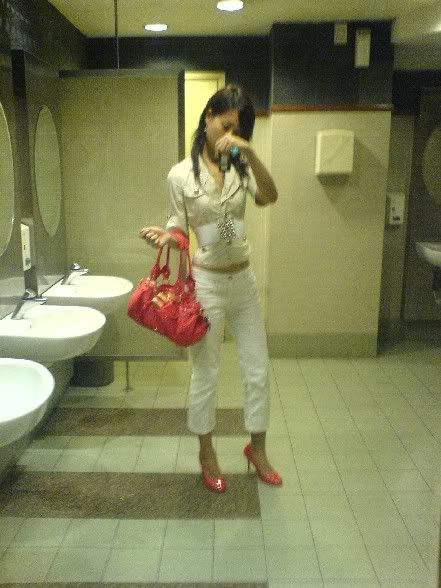 Top (is actually a jacket) from FEP
Big wasit belt
Esprit white pants
Red bag from Korea
Red heels from trendy Zone
~~~~~~~~~~~~~~~~~~~~~~~~~~~~~~~~~~~~~~~~~~~~~~~~~~~~~~~~~~~~~~~
As for the photoshoot today, it was a nice try and fun too! With another 2 models and Joanna as the MUA and consultant ;p Just photos for u guys..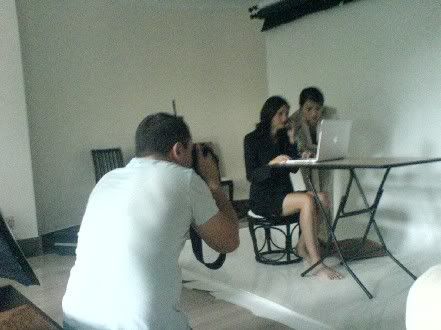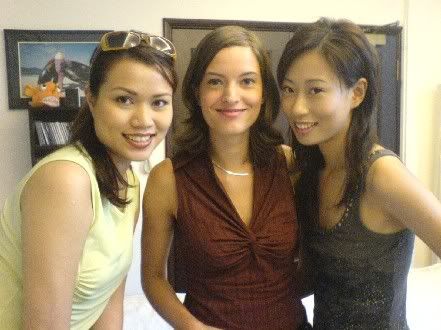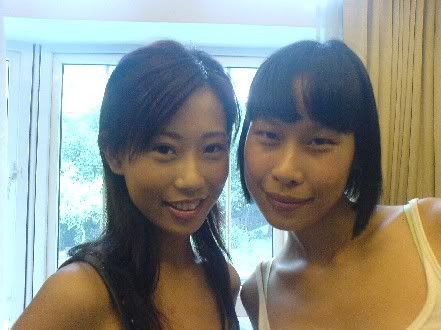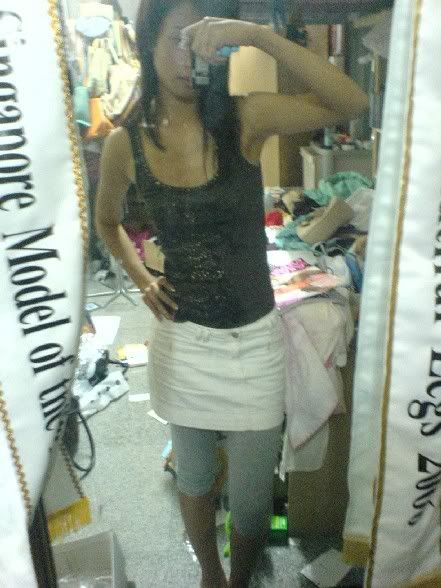 Esprit top
ON skirt
leggings from ???
Ok thats all for today.. Good night folks..