Seems like everyones' new year resolution is out last year dec and early last week. I have already gave some thoughts about what should I achive in this 1 year and finally " Qiqi's New Year 2007 Resolution!" is out!!!
Lets see what is my resolution and must help me to remind them!! Haha... espcially must keep on reminding me to work harder as I will be missing for class about 3 weeks for my competition!
Qiqi's New Year 2007 Resolution!!
*~Pass Diploma in Management Studies so I can proceed to Degree In Psychology
*~To do well in my modeling careers
*~Be a good gal and save money well
*~Gain some weight.. -__-"
*~Start exercising ~ Swimming 3 times per week (at least)
Simple resolution for me to keep in Year 2007! Wonder why I set the above?
~ Think most of the people (blog readers) know that I want to study Psychology since last year, so is not new, still keeping my goals!!
~ hmm.. do well doesn't mean I have to get real famous, to do well just to increase my income to pay my school fees and pocket $ :D coz can't do much part time job as I finish school around 5pm.
~ This one is very important, not only to me but to everyone out there who loves to spend! Seriously, after making a very rush decision to quit my beloved job and study, never come across to my mind that without proper savings is hard to maintain the lifestyle I have before and also paying of my schools fees. I'm glad that I have friends to help me, my parents who will give me pocket $ when they know I have empty pockets even though i never say anything (sometimes is hard to ask, coz I haven't ask for pocket $ for donkey yrs like 5yrs+) and my uncle/aunt who paid for my school fees first than slowly I pay them back in small amount every month. What can i say ~ I'm really bliss :D
~ Healthy lifestyle!!! Is what I want! Ever since I started nursing, i'm not trying to say nurse does not have a healthy lifestyle, I will only have 1 meal and small other meals per day when working. How to gain weight? Besides hard to gain weight, my gastric problems will not be resolve. And my sleeping pattern is also upside down, due to the 3 rotating shifts. Actually I love the rotating shifts. :)
So in order to really gain some weight and tone my body, I decided to go for swimming! I have started swimming today! Yap my first step to healthy life style! Lucky that I don't club and smoke otherwise there's alot more for me to change -__-"
Hope I will be able to attain all my resolution by the end of the year! :D
~~~~~~~~~~~~~~~~~~~~~~~~~~~~
Suppose to share with you guys last year after watching ISWAK ~ It started with a kiss, a taiwanese idol drama series. Is a very nice, comdey and romance show! I watched it 2 times during my school holidays.. hehe..
Ok the important one is this part, the main actor is having this conversation with his dad. His dad want him to study the top university so that he can take over the dad's company. But he refuse, he want to study what he likes but till at the point of stage, his not sure what is his interest. So to "run away", he decided to move out and work part time to support himself. Below is what his dad said to him..
(i save it as a pics, so that those who can't change to chinese are able to read. :D)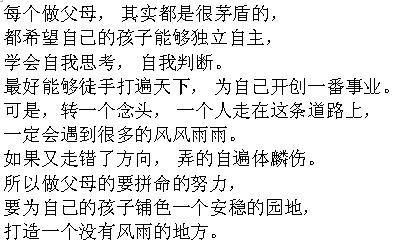 Meaningful? Actually after hearing what the dad said to him, it makes me understand why sometimes parents give us a feeling of contradicting or sometimes confusion. Above is the reason. I'm glad that my parents never force me on what should i study or force me to go to they path they have set, but in some way or rather, when we make decision they tend to give us doubts or even little support. As a parents, of course they want to support your decision but they are also afraid that you may get "hurt" or the path you have choosen is just a waste. So when making a decision, draft out every details and give alternatives on your plan, and always talk / discuss with your parents, this will reduce conflicts. :P
Good night folks!!! Muackz!
~*~Competition in Beijing counting down

20

days left!!~*~