Yappie finally school starts, is not that I don't like to work, (I totally enjoying working ya!) but seriously I can't wait to finish this Diploma course, work for 6 months and start my Degree programme soon! :D
Today I brought mao mao out for a walk at Puggol Park after school, its time to spend more time with her since I will be cutting down my working days. :)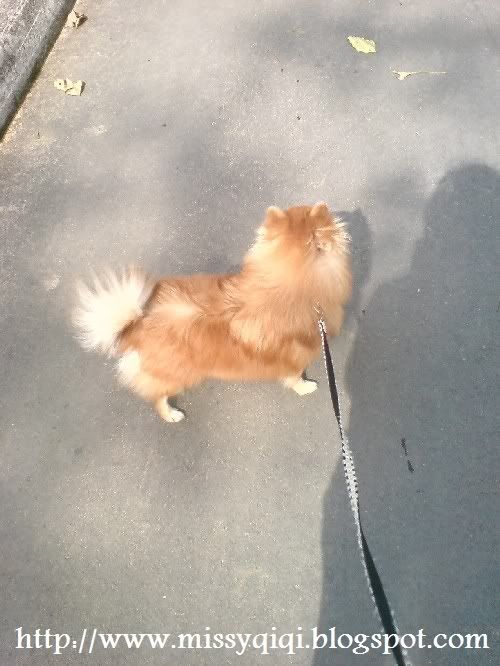 Mao mao n me, i look so pale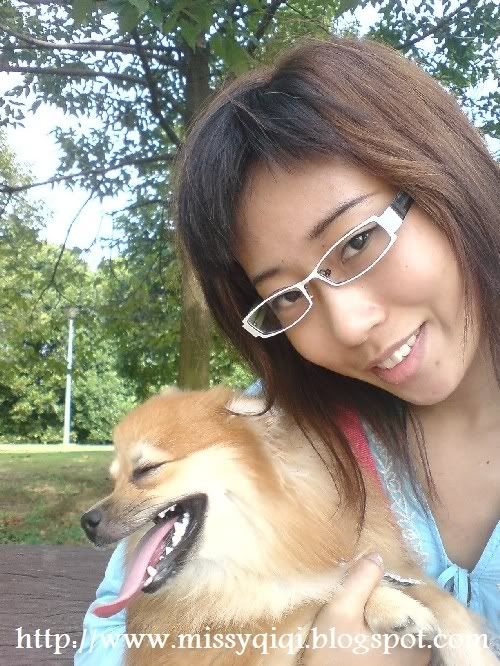 This time round mao mao didn't bark at the dog, but still she staill scared -,-", she hid behind me when the dog walk towards her.. lolz. timid dog..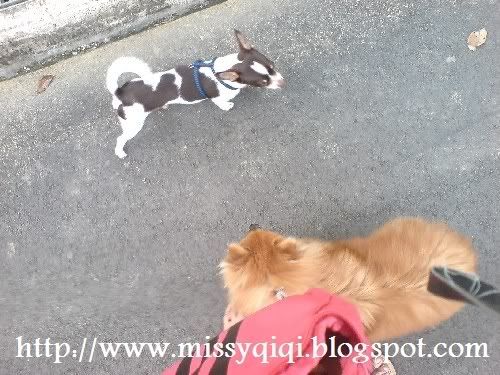 After almost 1 hour of walk, we went back home and give mao mao a good bath!
She's holding on to the toilet bowl for her life haha..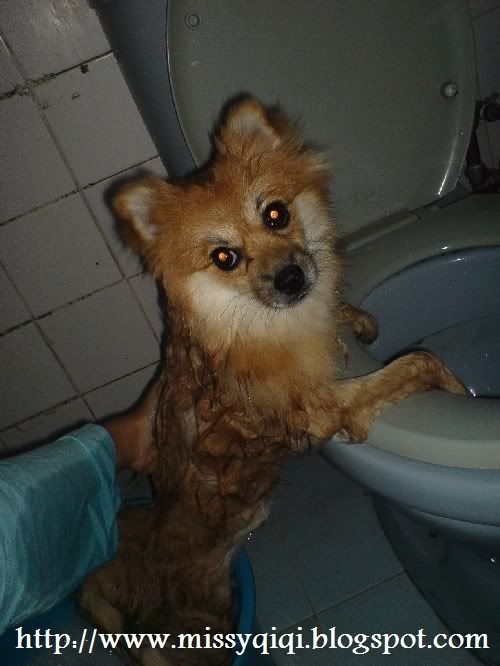 After giving her a nice bath, back to tidy my room again, ya i know its taking forever *faint* :P Then prepare mao mao's food and my dinner. Tired day... :P
~~~~~~~~~~~~~~~~~~~~~~~~~~~~~~~~~~~~~~~~~~~~~~~
2 days ago...
29/09/07 ~ KAI & David Buffalo fashion fashion show at St James Power House
Did a fashion show for carvar management on saturday at st james power house. Had an early hair do before the fashion show, rush down to centrepoint after night shift, so tired, keep on dozing off when the hairstylist doing my hair.. After the hair do, rush back home to catch some sleep before going down for rehearsal.
My hair... bombastic hair again.... Carry this hair style go back to home and back to town... lucky I'm use to "stare" otherwise i want to drill a hole -,-"
Rehearsal time!
While waiting for our turn, its camera time!
Jean and me, met her during Glamour Quest, finally we get to work together again! :D
My best kaiki, the best thing in modeling ~ melissa and me! :D
The 3 gals! Nichole, Melissa and me! Its like a small gathering of Colleen's Bridesmaid! hehe..
Finally rehearsal is over and time for makeup and touching up of hair! :D And as usual while waiting, we take photos again!
Melissa loves me.. haha.. kiss kiss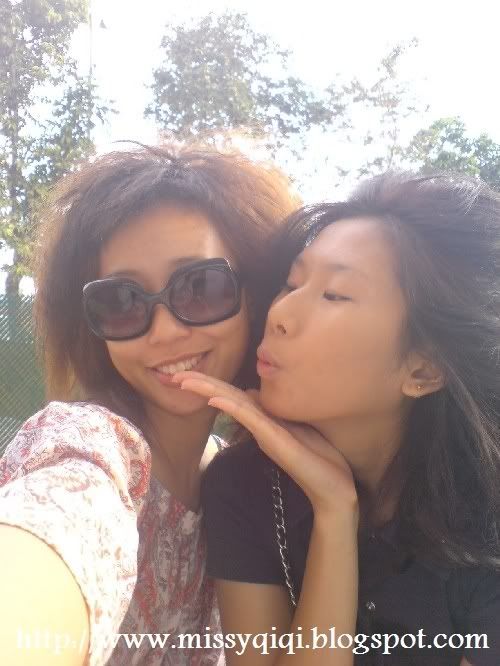 Gals! Jean, Joanna, me and Melissa
After the long wait, finally the shows starts! :D Pics taken by Benny.. The last pics of my looks like I have tummy! Or maybe i have le ever since i put on weight.. lolz...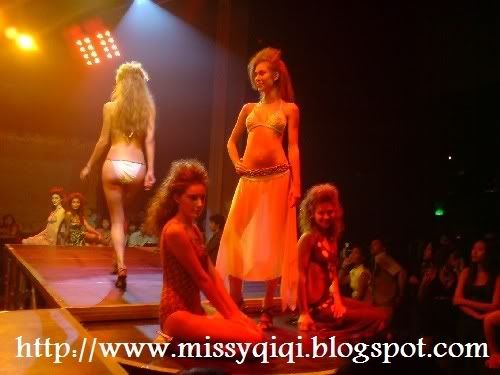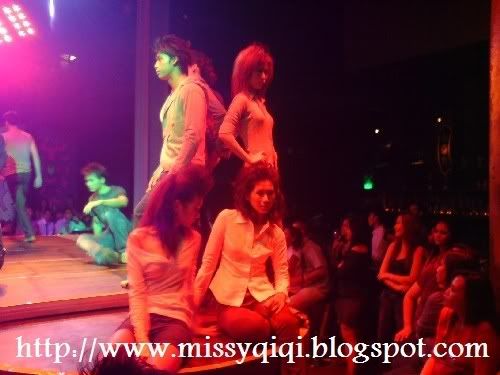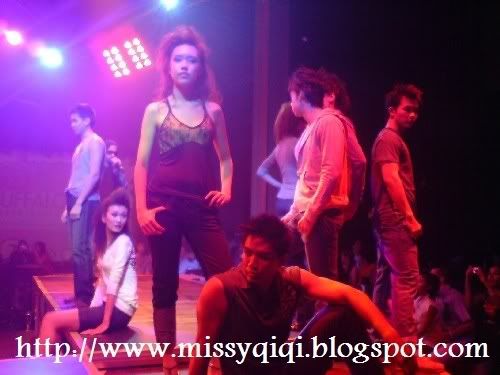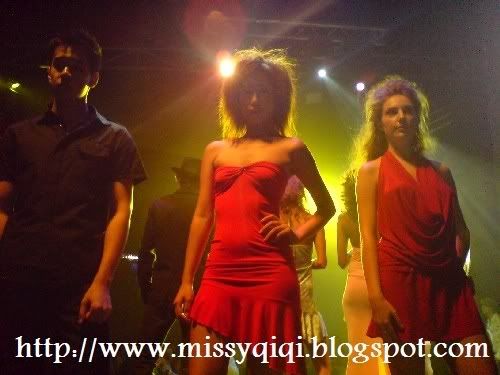 The show time! :D (in between the fashion show)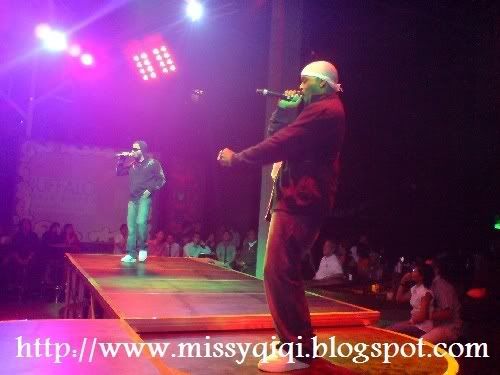 Really have a wonderful night, although its very tiring becasue we spend almost the whole day there! :D But the management ppl is nice, and nice and familiar models to work with and cheorographer Danny too! :D
More photos will uploaded once i got the pics from the rest! :D
****************************************************
30/09/2007 ~ Happy News!!
Remember in my previous entry I mention that there is some happiness going around and I'm not suppose to say anything till I get the permission? Yap I'm going to break the news soon!! My sister agree to Jie San proposed!!! Yappie!! Can't wait for their ROM which will be next yr i think.
Haha.. wondering why I'm not the one haha.. coz Benny just got to switch to a new job soon and he will be studying degree next year, so we will only settle down after 2-3 tears time. :)
Ok back to my sis and my brother-in-law-to-be... So after propsed, Jie San got to break the news to my dad! So he decided to treat us for dinner at Crystal Jade!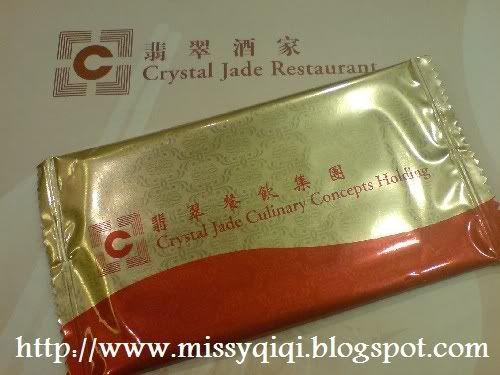 My dad and mom.. naughty dad!
Benny and me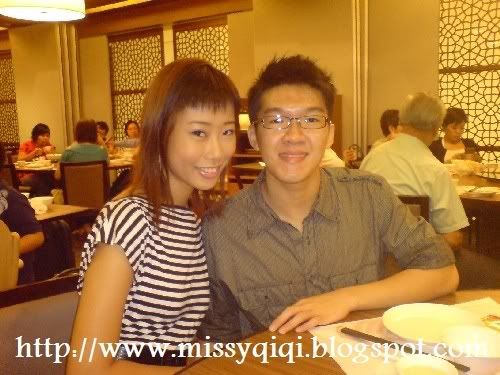 Jie San and me
The Sisters!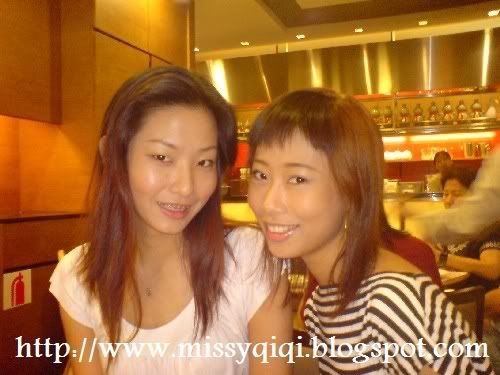 Discussing what to order.. (haven't break the news la.. )
Yummy food! When all the food arrived, we realise that, we really order alot of food..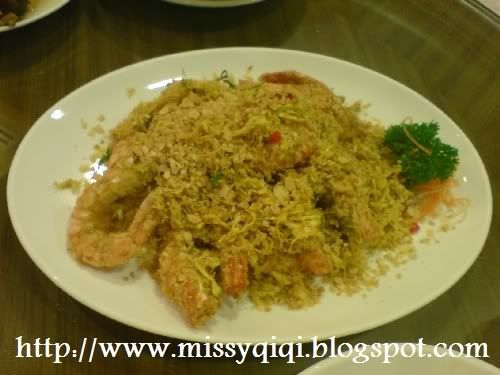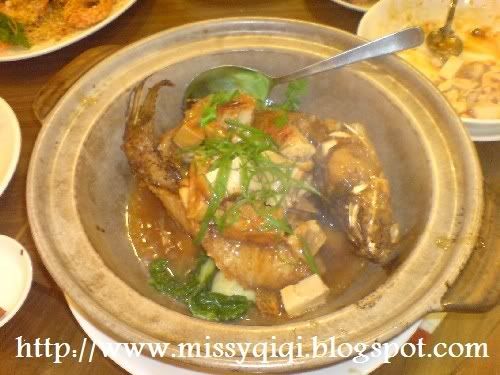 ME! :D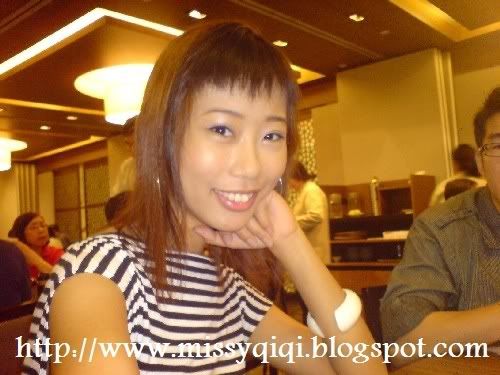 Sister and me have yummy dessert ~ good or our skin. :P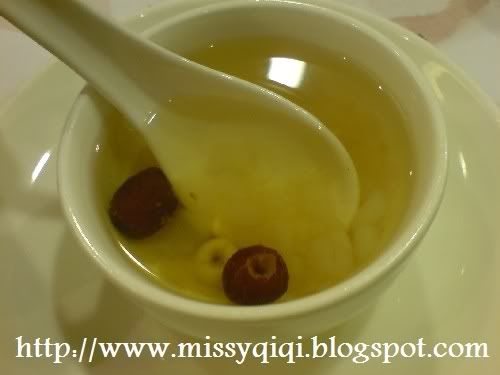 And during this time, Jie San finally break the news, dad was taken aback abit, but still expecting this coming because my sister keep "forcing" my dad for dinner when my dad refuses as he doesn't know why Jie San need to treat out of a sudden. :P
But instead of answer him, dad throw me the questions, as I'm the eldest. I was totally shock and i tear! Don't ask me why ya.. I also puzzle with my reaction -,-" But I was like haha.. U going to wait for 5 years first!! Haha... the my sister was like "ah!!".. haha.. just making fun of her. Then dad said have to ask grandma first.. Told sister, "na its not i don't want you to get married ya.. haha.. " Anyway grandma nod her head already and already looking at the calender :P SO right now, got to wait for my brother to come back (04/10) to break the news to him! :D
The 3 ladies!! :D
Another happy stuff for me! Dear got her sister to buy phone for me in China. Its a mini phone! I love it to the max! :D It stated limited edition on the box and it comes with a nice casing, like a jewellery box, with mirror too!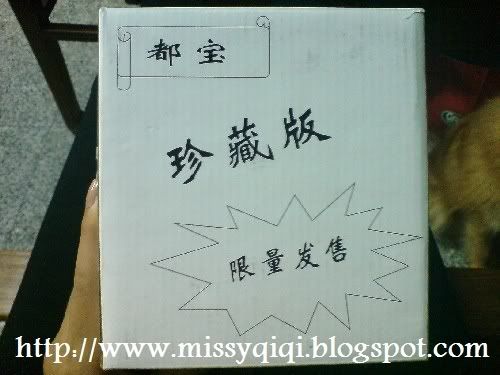 The mini phone :) Its a MP$ phone and the sound system really great, but the camera not very good, but its ok, i got my SE800 :D Benny got me another phone, because I told him i'm planning to sign up one more line for purly working use, coz my current bill, msg i used up to 1000. phone call not so bad coz i don't have the habit to talk on phone for long. :D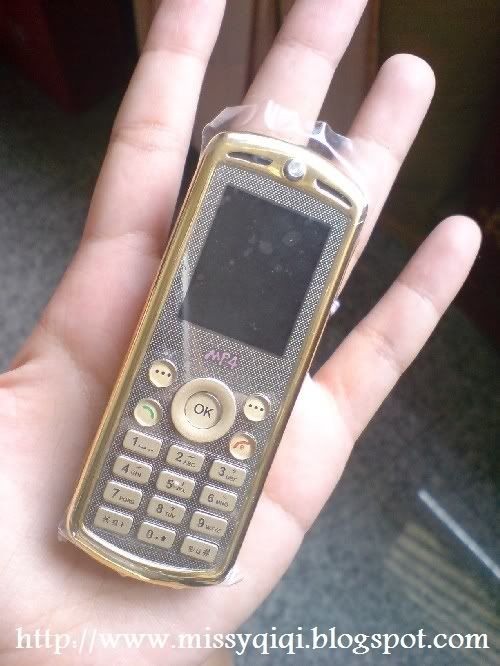 Thanks Dear!! :D
And finally pics of first day of school after 1 month holiday! :D Taken during break time, my school kaiki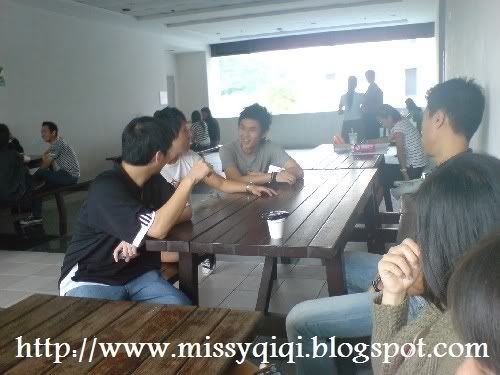 Chiewloo and me.. playing with her new phone.. :P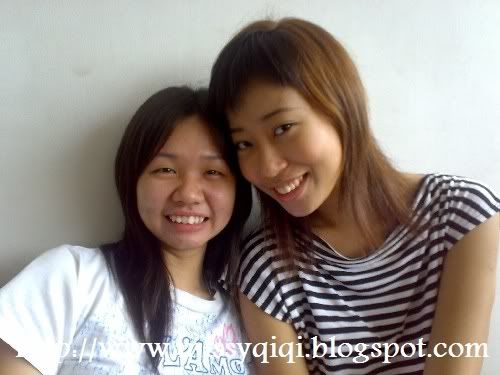 Lastly this is what my friend did for me! :D Thanks to him! :D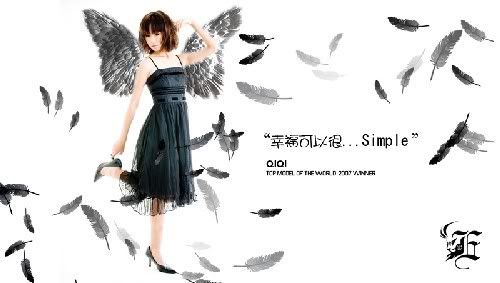 I really feel blissful.. happiness and sorrow to me is just a line difference, whether you want to be happy or sorrow depends which step u want to take, for me i want a simple happiness and maybe thats why I'm easily contented. :)
HAPPY BIRTHDAY SIS!!! :D