Hey, haven't been blogging the past few days sorry folks. Was busy doing preparation for my trip to Beijing and need to finish off the projects before I go off to China.
Not sure why, but I feeling quite stress compared to last year korea trip. Not sure is it because the trip is going to be longer than last time or what happen in Ms Chinatown. I'm stress to the extend of having dreams about my trip. Nothing horrible of course, just simple event happen in the airport and me in the airplane. And when i go for facial on thur, the lady ask me is it i'm very stress coz having some breakout though my friend said is not obvious (coz clog pores mah)...
Ok better stop talking about my trip.. otherwise i think i will get even more stress,,, -___-"
Oh ya the tiger beer commercial is out already some of my friends have saw it and recongise me some can't. But is ok, coz is only the side view nia.. haha.. Manage to record the short advert with my hp so the quality is not very good.
The gal on the extreme right, standing beside the red shirt guy is me. :D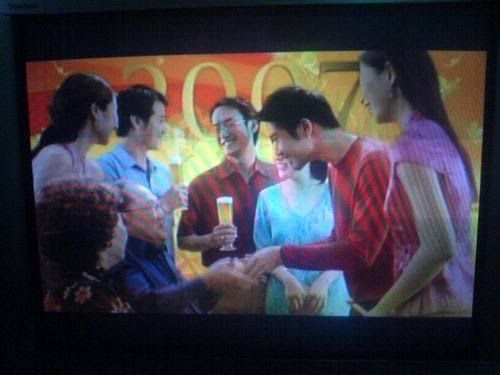 Hope i will get a chance to blog again when i reach the hotel. :D
Btw for this trip need to thanks to alot of ppl ~
Family ~ Thanks for letting me go again for the trip, although daddy is quite worried but he still tell me how to protect myself etc blah blah..
Benny ~ For helping me to buy the stuff that i needed and the encouragement that i really needed
Colleen Fransica ~ For lending me the dresses that i needed and the winter stuff too. Thanks alot for her help, otherwise i really got no idea what is needed. And giving me tips on how to wear for the competition. (She's really cute and nice, I only wanted to borrow 2 dresses end up she lend me 4 dresses and 5 winter coat_ ;p)
Joanna ~ For lending me her winter stuff too, and telling me her experience (she was last yr s'pore represensative)
Tuck & his friends ~ For searching my clothes that i needed and portfolio
Danny ~ giving me tips on how to survive the weather over there and a great help to my portfolio too
Classmates/group members ~ Thanks for telling me that u will give me tution to catch up lesson and prepare for exam when I'm back from china and group members for understanding and assistance.. :D
Lastly Brian and Robert ~ Thanks alot for helping me although i always ask stupid question -_-"
Thanks for my friends well wishes :D